- TRIBUTE VIDEO TO JOHN LENNON
TOMALO presents the video clip of the song "Thanks for everything", an acoustic ballad dedicated to John Lennon. "Thanks for everything" is included in the new album "How to be a Rockstar". The video only uses shots made in NYC, London and Liverpool, visiting historical places related with The Beatles and John Lennon. Click HERE to watch it!
- TOMALO IS LISTENED IN USA AND AROUND THE WORLD
R@DIO DIMENSION has added to their rotation the songs "Monster oberture in D minor", "From Hell", "One More" and "Without You" that are part of the new CD "How to be a Rockstar". The band is also recording some promo stuffs for the radio in spanish and in english. Here goes the review Lucio Galloso made about the new stuff. Thanks Lucio!
"How To Be A Rockstar" is the best TOMALO's album to date. This material proves the maturity and flexibility the band possesses and is a good showcase of the members' talents.
Solid and powerful energy with a sweet and melodic guitar can be found in tracks such as "From Hell" which proves that TOMALO goes for the non-standard hard rock concept truthfully.
R@DIO DIMENSION is happy to support this great group and invites listeners around to world to tune in an enjoy some of the best rock Argentina is offering!
Lucio Gayosso
R@DIO DIMENSION PRODUCER/DJ
www.radiodimension.com
- THE NEW ALBUM WAS BORN
Finally "How to be a Rockstar", the new TOMALO CD is out. After a year and a half of non stop working, it's ready. Rocker, hard, with a lot of strength and personality. "How to be a Rockstar" contains 12 songs in english + a bonus track in spanish. TOMALO presents their new album with all the heavy metal power and very personal ballads. Find out more clicking HERE.
- SMILE FOR THE CAMERA
You can check Agustina Lusky's pictures clicking HERE. Some of them are part of "How to be a Rockstar" artwork.
- CARIBBEAN PIRATE
Nowadays is really common to download albums, films and almost everything from the Internet. But internet is also important for promotion. There're several "compilations" on the net where TOMALO appears.
Megapost from 70 covers records made by Metal and Hard Rock bands.
http://www.taringa.net/posts/musica/2872669/Metal-Hard-Rock-Covers-70-Discos-(1-40).html
Disc 9
01 - Johnny Lima - Help (The Beatles)
02 - Behemoth - Hello Spaceboy (David Bowie)
03 - Styx - It Don't Make Sense (You Can't Make Peace) (Robben Ford)
04 - Funeral For A Friend - Sunday Bloody Sunday (U2)
05 - Mortifer - Digital Bitch (Black Sabbath)
06 - Alakran - Proud Mary (CCR)
07 - Northern Kings - Rebel Yell (Billy Idol)
08 - Phantom Blue - Bad Reputation (Thin Lizzy)
09 - Axel Rudi Pell - Like A Child Again (The Mission)
10 - Replicants - Destination Unknown (Missing Persons)
11 - Chroming Rose - I Feel You (Depeche Mode)
12 - Spearfish - Stayin' Alive (Bee Gees)
13 - Demonic Resurrection - Frozen (Madonna)
14 - Tomalo - The Deeper The Love (Whitesnake)
Download:
http://rapidshare.com/files/249996432/Metal-Hard_Rock_Covers_9.rar
Disc 19
01 - Regi Hendrix & Craig Erickson - Reach For The Sky (Gary Moore)
02 - Hortus Animae - The Fairy Feller's Master-Stroke-Nevermore (Queen)
03 - Mindless Self Indulgence - Bring The Pain (Method Man)
04 - Wild Horses - Tell Me Something Good (Rofus)
05 - Bullet For My Valentine - Crazy Train (Ozzy Osbourne)
06 - Tesla - Stealin' (Uriah Heep)
07 - Sonora - Stayin' Alive (Bee Gees)
08 - Def Leppard - The Golden Age Of Rock'N'Roll (Mott The Hoople)
09 - Big Cock - She's A Lady (Tom Jones)
10 - Caliban - Army Of Me (Bj"rk)
11 - Manowar - Silent Night (Trad.)
12 - Tomalo - Maniac (Michael Sembello)
Download:
http://rapidshare.com/files/250367987/Metal-Hard_Rock_Covers_19.rar
Disc 29
01 - Joe Leste & John Corabi - Houses Of The Holy (Led Zeppelin)
02 - Sepultura - War (Bob Marley)
03 - Bad Habitz - Hollywood (Down On Your Luck) (Thin Lizzy)
04 - Forcefield - White Room (Cream)
05 - Northern Kings - Don't Stop Believin' (Journey)
06 - Into The Arena - Into The Arena (MSG)
07 - Biss - Barracuda (Heart)
08 - Galneryus - Go (Asia)
09 - Death By Stereo - Anything Goes (Guns'n'Roses)
10 - Dark Age - Hells Bells (AcDc)
11 - Tomalo - She Loves You (The Beatles)
12 - Evil Adam - Genie In A Bottle (Christina Aguilera)
Download:
http://rapidshare.com/files/250773397/Metal-Hard_Rock_Covers_29.rar
- TOMALO RETURNS TO CHILE FOR 3RD TIME
The band will be playing next Friday may 15th in Santiago de Chile (10PM) on Broken Leg Festival at Club Bucarest. Then, that same night at 3AM, they will be playing at Bar Oxido. On saturday may 16th they will be playing at Pub Duna in Coquimbo - La Serena. TOMALO will be playing with Chilean singer Freddy Alexis as a special guess.
- WALK OF FAME
KISS visit to argentina left a huge happiness. HERE you can see photos from Tute with Gene Simmons and Eric Singer. EUROPE visited Chile and HERE you can see some photos from Tute and some of the musician of this amazing sweden band. Also check photos with musicians from W.A.S.P., Quiet Riot, Ratt, Enuff z'nuff, Sixx AM y Slash's snakepit in images gallery (STARS section).
- GIMME LOVE BETWEEN STARS?
Patricio lives in Los Angeles, we met him some years ago when he contacted the band to get TOMALO's CDs. Since that moment, we keep in touch till last august that Tute met him in his last trip to Los Angeles. We would like to share a video Patricio made with all the photos he took with rockstars. He surprised us using "Gimme Love" song from TOMALO for his video!!!!
- TOMALO IN BRASIL
As last year when the band got to reach Japan with their CDs on a local Rock Music Store, TOMALO's CDs are now available at ANIMAL RECORDS Music Store in San Pablo, Brasil.
- TOMALO STARS SHINES
New photos on this classic section of TomaloWeb. You may see Tomalo's guys with worldwide rock stars. This time photos with Eric Martin from MR BIG, Richie Kotzen from Poison/MR Big and Jef Scott Soto singer from Malmsteen. Click HERE to see them.
- TOMALO INVASION TO CHILE KEEP ON GOING
It's well known the amazing friendship that was created with chilean Witchblade's band members after the trips TOMALO made to Chile. The news is the TOMALO has been invited to appear in "ilgnition", new album of the Chilean band. They will be playing in the song "Inside my Heart". Freddy and Tute also composed a song together to be included in this new album! The name of the song is "Without you". Tute plays also the guitars and keys of the song. Thanks Freddy and Witchblade for this amazing experience!
- TOMALO IN JAPAN !!!
One of the biggest dreams of TOMALO has always been to reach any part of the world with their music. Maybe the main reason to sing in english.
You can now buy all TOMALO albums through a Japanese Import Rock Music Store from Osaka.
Yes, some weeks ago the band finally finished the first sell to that country !!!
- TOMALO ONE MORE TIME IN SPAIN !!!
Some weeks ago the spanish magazine named "La Olla" published a "Play it Loud" album review.
Click
HERE
to read it.
- NEW VIDEOS AVAILABLE AT YOUTUBE
We have 2 low quality videos (non edited) from the last shows !!!
We talk about 2 Kiss covers: "
Radioactive
" from Gene Simmons and a part of "
Rock n' Roll all Nite
". Both recordered at Asbury Club (Buenos Aires), but from different shows.
- OBRAS 2001 FINALLY REACHED YOUR EYES
After several years, finally an historical moment for the band reachs the light as a mini documentary. We are talking about the show where TOMALO opened for Vince Neil (Motley Crue) at Obras Sanitarias Stadium in Buenos Aires Argentina.
In this video, you will be able to see the hole experience: backstage, soundcheck, photos, everything from that day.
This new video is also included at the "Gimme Love" DVD. You can see it clicking
HERE
.
"OBRAS ROCKUMENTARY 2001":
Direction and edition:

Alejandro De Pascuale

Filming and Photography:

Pao Glitter

Okki Rocket

TOMALO

English Subtitles:

Pao Glitter

Audio interview recorded at Howard's Jail.

Included Songs:

My turn to Rock

Ready to fly

Love is...

Play it Loud

Faster Racer

Sombra Nocturna

Ejemplo de nadie

Corazón de Acero

Produced by:

RENDERALE - TOMALO
- THE NEW T-SHIRTS ARRIVED
Last May 19th, at Acatraz show, the band officially presented the new "GoodBites-All Nite" t-shirts design.
You can get them through this website under "Merchandise" section.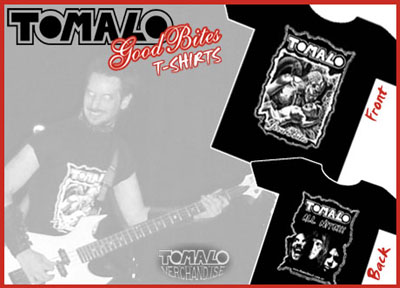 Thanks to the great audience approval from the first visit to Chile on Jannuary 2007, next may 25th (8pm), TOMALO will be playing at the SCD - Mall Plaza Vespucio venue in Santiago de Chile along with bands Witchblade (Power Metal from Chile) and Arcangel (Heavy Metal from Argentina).
- NEW INTERVIEW IN CHILE !
The Website Power Metal from Chile has published a long interview to Tute. In this one, he talks about their career, and the first visit of the band to the neighbour country. To read it click
HERE
.

- TOMALO IN A SPANISH RADIO
The guys from the spanish radio programe "Viaje Al Reino Del Metal" keep on promoting TOMALO. Here goes the Playlist of the radio programe that goes through Ripollet Radio - 91.3 fm.

Friday March 2nd 2007 and Sunday March 4th, 2007:
CYAN BLOODBANE - La Última Misión
SIMM - Neurotic Man
INSIGTH - Fate
OVERLIFE - El Despertar
HOUSE OF LORDS - Sahara
LORDI - Would You Love A Monsterman
CONEXION EN DIRECTO CON CONCIERTO DE THUNDER
HORCAS - Esperanza
EDU FALASCHI - Scary Zone
BOANERGES - Boanerges
TOMALO - Is This Love, BOB MARLEY Cover
CYHIRIAETH - In The Eternal Nigth
DOOMVS - Empire Of The Fallen
BLACK WITCHERY - Holocaust Summoning
DISGORGE - Revealed In Obscurity

Friday March 30th 2007 and Sunday April 1st, 2007:
NOCTURNIA - Anubis
CRIPTA - Si No Es Por Ti
NIVARIA - Starkad
LUJURIA - Corazón De Heavy Metal
ATLANTIDA - Luzifer
ENTREVISTA CON ATLANTIDA
ATLANTIDA - No Dejo De Gritar
AGENDA DE CONCIERTOS
MOTORHEAD - Living In The Past
VIRUZY - Vivo O Sobreviviente
VIRUZY - Embustero
TOMALO - Ready To Fly
TOMALO - My Turn To Rock
ALKONOST - Den Posledny Moy
CINERARY - Hung By Intestines
CINERARY - Inheiriting The Deified
TSJUDER - Possessed
BRUTAL TRUTH - Denial Of Existence
The first TOMALO DVD is finally done. You will find both TOMALO's videos "LOVE IS..." and "GIMME LOVE", and a 10 minutes rockumental of TOMALO's live show at "Obras Stadium" as Vince Neil opening act.
If you want to have this DVD just write us at
tomalo_3@hotmail.com
- TOMALO IN SPAIN
Last friday jannuary 26th 2007, TOMALO was aired at the radio station programe "Viaje al Reino del Metal" (91.3 fm) from Spain. You can listen it at www.la-olla. tk (clicking in "viaje al Reino del Metal) or here: www.myspace. com/ripolletrock.

Here goes the setlist of the show:
(Friday Jan 26th, 2007 and Sunday Jan 28th, 2007)

TROYA - Sal
CRIENIUM - Quedate Hasta Que Me Duerma
NASTY ARMY - Hotter Than Fire
SILVER FIST - Lagrimas De Sangre
EUROPE - Start From The Dark
THERION - The Rise Of Sodom And Gomorra
TOMALO - Maniac
TOMALO - No More Lonely Dreams
MASTIFAL - In The Entrail Of The Apocalipse
MAYHEM - Anti
WORMED - Voxel Mitosis
XASTHUR - A Spell Within The Winds
VORNAGAR - When The Mist Hath Fallen
- INTERVIEW AND REVIEW IN CHILE

Metalwaa.cl was one of the medias that covered our las show in Chile. They wrote an excellent review from Goodbites (read it clicking HERE) and a long interview with cool pictures (read it clicking HERE).
- CHILE TOUR PHOTO DIARY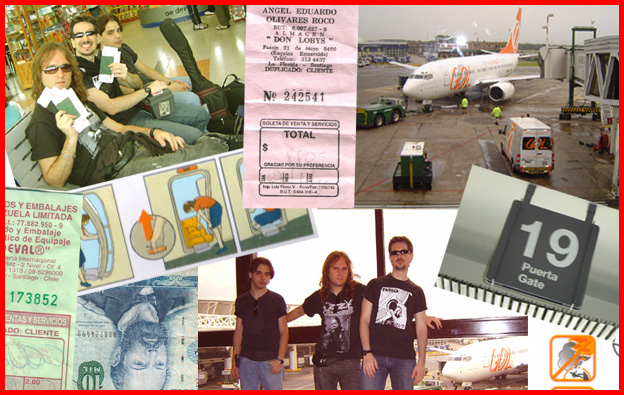 TOMALO at the Ezeiza airport, getting ready to their first international tour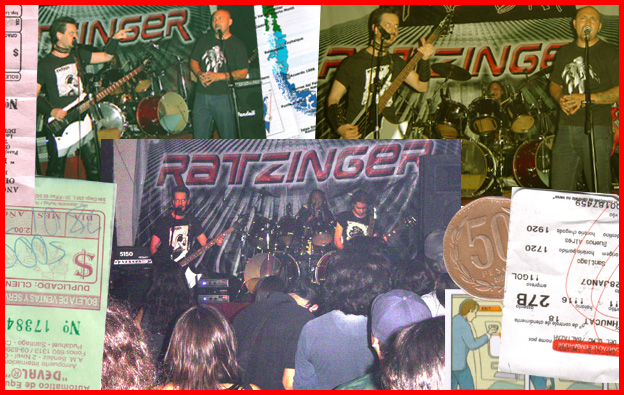 TOMALO alive at the "War Metal Fest" on jannuary 26th in "Oxido" Club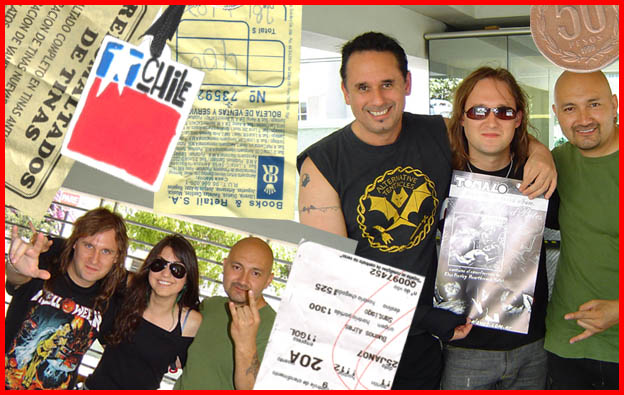 Rolando from "Futuro" Radio, Mane from "Rock n' Pop" Radio both pics with Tute and Freddy.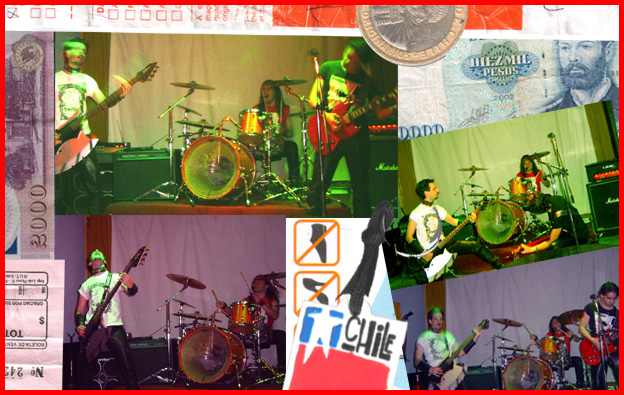 TOMALO alive at the "Rockarolla" pub on saturday Jannuary 27th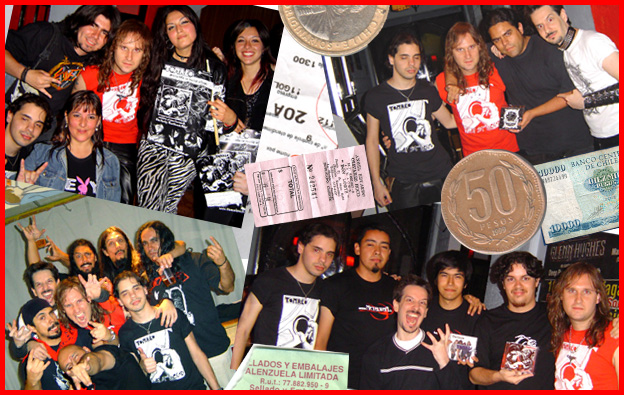 People from "Metalwaa" & "Power Metal" Webzines, fans and friends
- TOMALO... LIVE IN CHILE x 2 !!!


One more TOMALO show in Chile has been added !!!!!
TOMALO would be part of the "WAR METAL FEST II" this friday Jannuary 26th 2007, at the Oxido Club (Purisima 282 - Santiago de Chile)
... and on Jannuary 27th 2007, TOMALO will be playing with WITCHBLADE and RONFIVE (both bands from chile) at Rockarolla Bar (Ricardo Cumming 536 - Esquina Catedral - Santiago de Chile).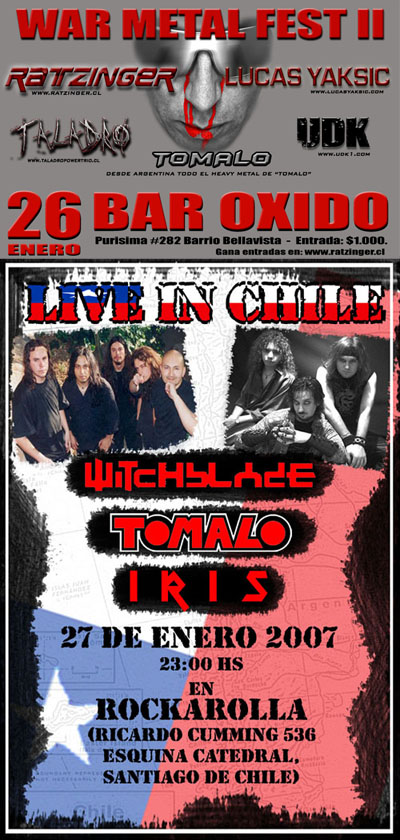 Official flyer of the show
TOMALO made an interview for the radio programe "Que nadie se atreva" from "Miami" Radio (
www.radiomiami. us
). The interview was aired on Jannuary 3rd, 7th and 8th 2007. Because of the audience response, the complete inteview was also played on Jannuary 17th, 21st and 22nd 2007. This radio programe is dedicated to play all kind of argentinian Rock. It's recorded in Argentina and is aired in USA.
"ARDE ROCK & ROLL - Vol 1",
is the first CD of the argentinian magazine
ARDE ROCK & ROLL.
All the local bands appears in this album making never done versions / covers
...

Soon available in all Rock music stores
!!!
The bands are:
TOMALO / PARTE DEL ASUNTO / ALUCINADO / TIFOSIS DEL REY / SIN SALIDA / PERCOBAROCHO / JACK LONDON / JPA / LA CULPA / MONAMORDAN / ULIANOV / PABLO DACAL / FISURA2 / NEWGARDEN / RAVIOLES / PACHULY / MALDITOS SIMULADORES / RUNNING POTATOES / LOS COCINEROS / EL CLUB DE TOBI.
T
OMALO
participated in the 4th.
"Metalmatanza Compilation" CD with the song "Gimme Love" (from GoodBites
album
).
The songs will be aired at "
Metal Matanza" FM radio show.

- TOMALO ON TV
TOMALO made and interview for "SOLO ROCK" TV programe at "Solo Tango" channel last thursday, October 26th 2006. Check out some pictures.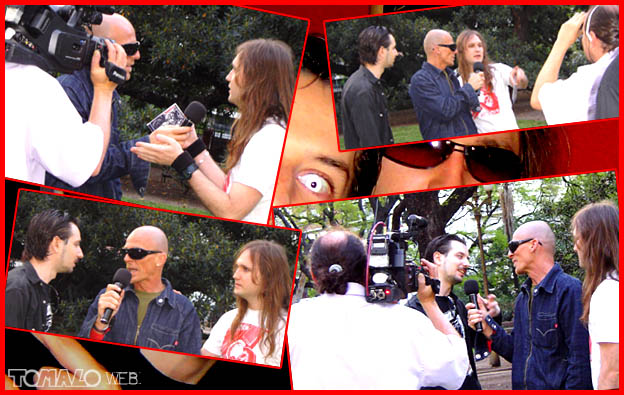 - VIDEOS ON LINE
Both TOMALO's videos ("Love is..." and Gimme Love") are now available on the net !!!. Go to the "Download" section and watch them !!
- SOUNDTRACK MOVIE!!!
Last saturday October 7th was the "2002 Sudak Odissey" movie premier.

TOMALO participated with one song at the movie Soundtrack.

They made a cover/version of the TOPGUN song renamed "Do you want to fly".

Official flyer of the movie motion "2002 Sudak Odissey" ----->
The second video clip is done and it's awesome !!!


The song "Gimme Love" from GoodBites has been chosen to be the 2nd. video clip from the band, but the first one to show the members. This is because the first video clip "Love Is..." was made 100% with animation.

Alejandro de Pascuale: Lighting and edition
Tute: Concept and general direction
Guido Caminiti:Camera Direction
Horacio Saavedra: Production assistant

Animation:


Tute: Animation

Laura Collavini: Colour y Digital effects
Valeria F. Duek: Calco

Here goes some "behind the scenes" shots ...

Produced by RENDER - TUTETOON and TOMALO.
After a long time, the Optimizer Poll ended up with the following results:
The complete list is:
#1 -> She Loves You (BEATLES) = 22%
#2 -> Poison Heart (RAMONES) = 16%
#3 -> The Deeper the Love (WHITESNAKE) = 13%
#4 -> Animal (DEF LEPPARD) = 12%
#5 -> High Voltage (AC/DC) = 12%
#6 -> Johny Tolengo (BONUS TRACK) = 9%
#7 -> Maniac (FLASHDANCE) = 6%
#8 -> Getcha Back (BEACH BOYS) = 6%
#9 -> Is This Love? (BOB MARLEY) = 4%

- TOMALO IS PLAYED IN BOSNIA
The radio progamme from Bosnia "The Jeans Generation" has presented the new stuff from TOMALO last Tuesday December 6th, 2005.

Setlist from the radio programme:
- The Beatles (UK)
- Hello Goodbye (USA)
- Jason Green (USA)
- Vlatko Stefanovski (MK)
- Spock's Beard (USA)
- Karcius (CAN)
- Vanilla Rex (D)
- The Pleasures (UK)
- Blue Drift (UK)
- Tomalo (Argentina).

Tomalo will participate at the soundtrack of the independet movie "2002:
S
udak
O
dissey"
.
The band has recordered a cover/version of the famous Top Gun song
.
The song is named "Quer
é
s volar? (Top Gun theme)" <"
Do you want to
Fly? (Top Gun theme)"> and it also has its english version.
- NEW ARTICLE IN SPAIN
The "La olla" Music Rock Magazine from Spain has made a review from GOODBITES. In the # 27 issue (October 2005) you may find the review. You can also read it clicking
HERE
.
- GOODBITES MAKES HISTORY
The magazine
METALICA ZINE
has made a long article named "The Best 100 CDs from the national scene". There is a list of argentinian CDs from all times, where TOMALO appears with their last work GoodBites. Some bands that are on the same list are: Rata Blanca, V8, Hermética, Riff, Kamikaze, Bloke, Cruel Adicción, Logos, Nepal, Horcas, Tren Loco, among others.
We also would like to thanks Metálica Fanzine for including TOMALO in their issue # 48 at "news section". Read the article clicking
HERE.
- ROCKIN' ALL OVER THE WORLD
The band keeps on being promoted all around the world. The USA website "ROCK EYES" made and interview from Goodbites. Read it clicking
HERE
.
Click
HERE
to read the spanish interview to TOMALO made by LA OLLA magazine.
- NEW ALIVE PHOTOS AT TOMALOWEB
You can now check the photos of the last 2 shows the band gave. To see the photos from "The Cavern Rock Fest" click HERE, and to see the photos from the Oráculo Club last June 11th, click HERE.